05.01.2021, 1:00pm
« TWB® START-UP DAY, 2 & 3 February 2021 »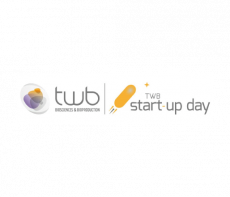 "The 4th edition of TWB® START-UP DAY, 2 & 3 February 2021, 100% digital, will focus on "Industrial Biotechnology: What are we up to?" through 2 topics "Biotech & Circularity" and "Data & AI". This event, organised by TWB, is dedicated to the industrial biotechnology community and beyond.
The 2021 edition will host
two pitch contests
, one
"Fast track it!"
dedicated to start-ups developing their technologies and a new one
"Go for it!"
dedicated to entrepreneurs in the final stage of the ideation.
Apply now!
Next news >
< Previous news
Bilateral Talks
Participants

342

Meetings Requested

2449

Meetings Accepted

1242
Participants
Austria

5

Belgium

15

Brazil

1

Chile

1

China

5

Denmark

3

England

1

Finland

3

France

11

Germany

252

India

1

Israel

2

Italy

3

Kenya

1

Latvia

3

Luxembourg

1

Netherlands

29

Norway

2

Oman

2

Poland

2

Portugal

4

Singapore

4

Slovenia

1

South Korea

2

Spain

5

Sweden

2

Switzerland

7

United Kingdom

5

USA

7

Venezuela

1

Total of Participants

381