BioBall Innovation Space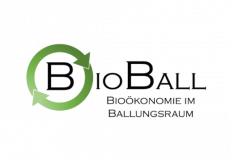 The aim of the BioBall Innovation Space is to generate new utilization paths for the Frankfurt/RhineMain metropolitan region based on biogenic residual and waste materials and thus to become a model region for a sustainable, bio-based economy.
BioBall identifies and brings together stakeholders – from waste management companies and technology developers all the way to consumers – and initiates and funds new research, development and innovation projects. The resulting synergies in this BioBall Innovation Alliance promote the rapid exploitation of new tailor-made biobased value chains for metropolitan regions.
BioBall is one of four Bioeconomy Innovation Spaces selected by BMBF (Federal Ministry of Education and Research) in 2019 of which each Innovation Space is provided with a public funding budget of up to 20 million EUR for its implementation for the period 2019-2024.
All BioBall projects have a high scientific demand and are application oriented as well. The technologies pave the way towards a sustainable, bio-based economy.
More information about BioBall, the current projects and involved partners, our webinar and podcast series as well as contact information can be found on our website:
www.urban-bioeconomy.de/bioball
Bilateral Talks
Participants

342

Meetings Requested

2449

Meetings Accepted

1242
Participants
Austria

5

Belgium

15

Brazil

1

Chile

1

China

5

Denmark

3

England

1

Finland

3

France

11

Germany

252

India

1

Israel

2

Italy

3

Kenya

1

Latvia

3

Luxembourg

1

Netherlands

29

Norway

2

Oman

2

Poland

2

Portugal

4

Singapore

4

Slovenia

1

South Korea

2

Spain

5

Sweden

2

Switzerland

7

United Kingdom

5

USA

7

Venezuela

1

Total of Participants

381